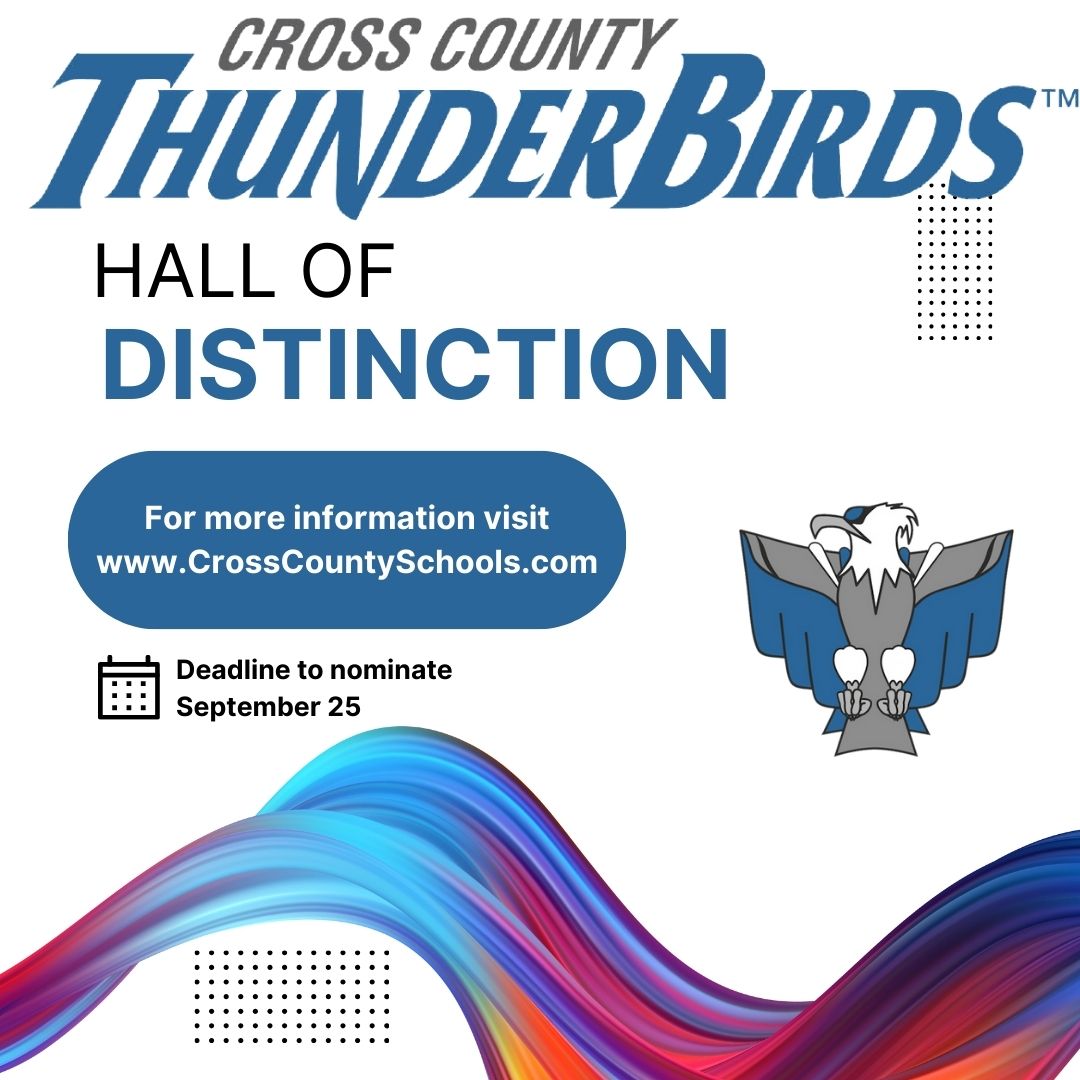 Click the button below to access the nomination form.
Cross County School District Hall of Distinction
Cross County High School (CCHS) is proud to announce the establishment of the Alumni Hall of Distinction, a prestigious recognition program that aims to inspire current CCHS students by highlighting the remarkable accomplishments of its alumni. The initiative seeks to encourage students to strive for success in their own lives and create a positive impact on their school, community, nation, or the world at large.
The Alumni Hall of Distinction will celebrate the achievements of CCHS graduates in five distinct categories: Public Service, Career Success, Athletic Achievements, Inspirational Experiences, and Contribution to CCHS. This comprehensive approach ensures that alumni who have excelled in various fields and made significant contributions are duly recognized for their remarkable endeavors.
Public Service recognizes graduates who have demonstrated exceptional dedication through distinguished military or government service or extensive community involvement.

Career Success celebrates individuals who have achieved remarkable success in their professional paths, accumulated notable awards, or served as exemplary role models in their respective fields.

Cultural Enrichment or Athletic Achievement acknowledges graduates who have made substantial contributions to cultural arts, music, theater, literature, film, media, or those who have achieved significant athletic success.

Contributions to the District honors graduates who have made substantial contributions to the Cross County School District through their time, resources, or philanthropic efforts.

Lastly, Heroism applauds graduates who have triumphed over adversity or other obstacles while embodying the spirit of Thunderbird Pride.
Additionally, the Honorary Thunderbird Award will recognize individuals who, although not Cross County graduates, have made a lasting and profound impact on the Cross County School District and its community. This award acknowledges their unwavering commitment to education and their active involvement, leadership, and support of the school and school community.
To ensure fairness and transparency, the nomination process is open to all members of the community. Individuals can nominate deserving candidates by completing the nomination form, which must be submitted in its entirety and cannot be anonymous. Nominees must have graduated from Cross County High School at least 10 years prior to the nomination, and nominations are accepted for both living and deceased individuals. The Honorary Thunderbird Award is open to any person who is not a graduate of Cross County High School but has made a significant impact on the school district.
The selection of inductees will be carried out by a committee, which consists of eight members in total. It is important to note that committee members cannot nominate themselves or vote for immediate family members. Each year, the committee will induct a maximum of three individuals into the Alumni Hall of Distinction.
Inductees will be honored through several means of recognition. They will be publicly acknowledged during a home athletic event, ensuring the entire school community can celebrate their achievements. Each inductee will receive a personalized plaque bearing their name, serving as a tangible symbol of their outstanding contributions. Additionally, their names will be permanently displayed on the Hall of Distinction Wall, creating a lasting tribute to their remarkable accomplishments.
Cross County High School looks forward to the inauguration of the Alumni Hall of Distinction and is excited about the opportunity to inspire and motivate its current students through the remarkable achievements of its alumni. By recognizing these exceptional individuals, the school hopes to foster a sense of pride, aspiration, and dedication among its students, encouraging them to reach for the stars and make a positive impact on the world.
The deadline to nominate is September 25.