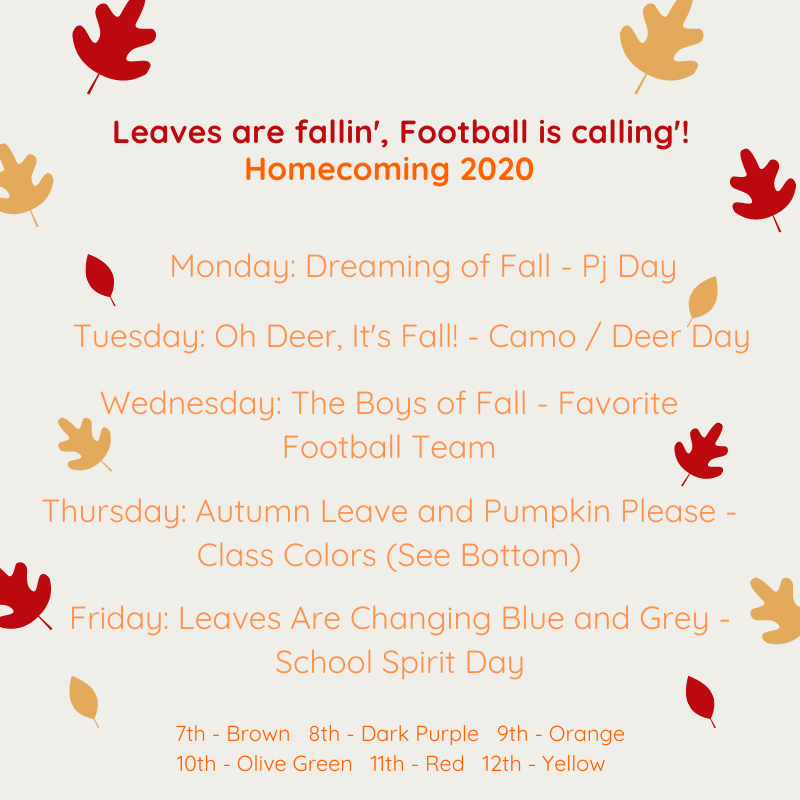 Homecoming 2020
Rachel Luther
Tuesday, October 06, 2020
Cross County School District will celebrate Homecoming this Friday, October 9th. Students throughout the district have participated in spirit days this week around the Homecoming theme: Leaves are fallin' Football is callin'.
The Thunderbird Football Team will play conference foe Marked Tree on Friday night at 7:00 PM for the Homecoming game. The Thunderbirds enter the game undefeated under new head coach, Cody Goulart.
Senior High Football players, cheerleaders, and Homecoming maids will be given the opportunity to buy four reserved tickets today and tomorrow (October 6th and 7th) from the high school office.
All unsold tickets will be released to the public for general presale. Presale tickets can be purchased by visiting the Cross County School District Administration Office and will be available from Thursday October 8th until Friday October 9th at 12:00 PM. Masks will be required for entry into the office for ticket purchase. All presale tickets guarantee access to the Homecoming Game and cost $4.00.
Due to the social distancing requirements in place, Thunderbird Stadium seating capacity will be limited to 240 ticketed fans. Cross County School District will continue to follow the safety guidelines outlined earlier in the season, therefore no tailgating or class reunions are allowed prior to or during the Homecoming game. Additionally, there will be no on field photos during the Homecoming ceremony. Homecoming maids and their families will each be given a separate space after the ceremony to take photos.
Fans unable to attend are invited to join the CCHS Live! Online stream of the game on the district Facebook page.
Go Thunderbirds!